About Us
Stud History
Greenfields Merino Stud was founded in 1949 on Ashrose bloodlines. Regular purchases of Ashrose stud rams and ewes have been made, as well as stud rams and semen from Collinsville.
Collinsville blood formed the basis of the Greenfields Poll Merino Stud, founded in 1957.
The stud sells rams to all parts of South Australia, as well as many interstate areas, and they are keenly sought for their well nourished, bright, stylish wool and large plain bodies. Emphasis is placed on breeding big framed, early maturing sheep with strong constitutions.
The stud ewe flock consists of approx. 1200 merino ewes and approx. 1450 poll merino ewes.The average micron of our ewe flock is 21.5. The stud has two lambings a year, enabling quality rams to be available for selection throughout the year.
Stud masters, Jim, Robert and James Sullivan are committed to breeding top quality Merinos and Poll Merinos, constantly striving to produce rams with the superior genetics required. They are always available to assist clients with classing and general advice with ram selection and flock management.
The stud offers a team of stud Merino and Poll Merino rams at the Royal Adelaide Show sales in September, followed by the annual On Property production sale, where 150 rams and 400 stud ewes are offered.
Flock ram enquiries are always welcomed with a large selection available throughout the year.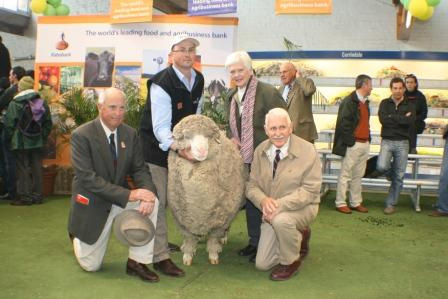 Greenfields XP 62, sold to Earnscleugh Station NZ, for $33,000 Adelaide Ram Sale 2011